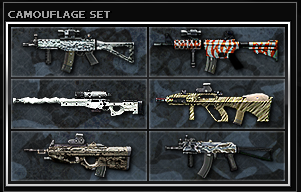 Description
Edit
The Camouflage Set is a custom guns collection. This is used by agents of G.D. corp. These are specially customized for certain tactics since they are used by such an elite group. They are camouflaged and distinguished by their prowess.
Weapons in the Camo Set have various upgrades and perform on different levels than their regular counterparts. Utilize the same tactics as you would with the normal versions.
EM-4 C
AUZ A3 C
EF-2000 T
AKEIS-74U AW
SZ-552 AW
I-115A1 AW
---
Ad blocker interference detected!
Wikia is a free-to-use site that makes money from advertising. We have a modified experience for viewers using ad blockers

Wikia is not accessible if you've made further modifications. Remove the custom ad blocker rule(s) and the page will load as expected.