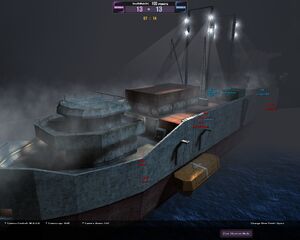 Rival Prides found themselves fighting over the same shipment of Anti-Epoxyn on a ship bound for the U.S.
Spawn points are on either side of the ship. Most of the action takes place inside the ship. Players have the ability to go above deck and outflank their opponents below.
This is a fairly large, open map. Use sniping fire, and other long range weapons to eliminate the opposition.
When there is a large group crowding in the lower portion of the ship, sneak up to the top of the ship, and attack them from behind.
You are able to wall-run while in wolf form along the side of the ship. This will take you to the lifeboat, where you can then get to the top of the ship.
When coming towards the center of the ship, have a grenade ready. Most players tend to gather in the center, so you might be able to get a few of them with a single attack.
Be careful, there are lots of hiding spots in and on top of the ship. Check all corners and listen for footsteps.
---
Ad blocker interference detected!
Wikia is a free-to-use site that makes money from advertising. We have a modified experience for viewers using ad blockers

Wikia is not accessible if you've made further modifications. Remove the custom ad blocker rule(s) and the page will load as expected.