Description
Some which have the Wolf gene are not involved in any position and looking to survive by themselves. This kind of person expresses their antisocial propensity through painting of the weapon and by increasing the fire power through customization.
Tips:
This is a fairly interesting gun. It has increased accuracy and an ammo counter on the gun itself to help remind you to reload.
Use similar tactics to the EF-2000. This is the same weapon with increased accuracy.
Variants
EF-2000 PT (found in Full Power 14 Package)
EF-2000 Rookie
EF-2000 SPC
EF-2000 T (found in Camouflage Set)
---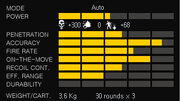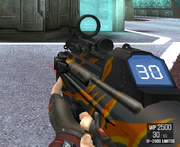 Ad blocker interference detected!
Wikia is a free-to-use site that makes money from advertising. We have a modified experience for viewers using ad blockers

Wikia is not accessible if you've made further modifications. Remove the custom ad blocker rule(s) and the page will load as expected.