Description
This is a bull-pup rifle of FMN, Belgium. It provides very stable firing due to forward discharge of empty cartridge structure and improved weight balance. Additional modification has been taken place for battles against wolves so it might be more or less heavier than the original version.
Tips
One headshot can kill on a human, so aim well
Buy the scope upgrade for longer ranges
Only 24 rounds per clip, so reload whenever you can
Use the Shift key whenever shooting
Burst fire helps limit the amount of bullets you expend as well as helps with the recoil
One of the better guns in Wolfteam, a headshot from the EF-2000 can help you in tough times, although the small clip may leave you vulnerable.
Variants
EF-2000 PT (found in Full Power 14 Package)
EF-2000 Rookie
EF-2000 SPC
EF-2000 T (found in Camouflage Set)
---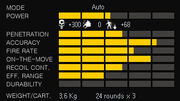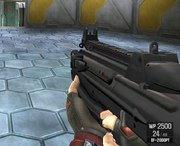 Ad blocker interference detected!
Wikia is a free-to-use site that makes money from advertising. We have a modified experience for viewers using ad blockers

Wikia is not accessible if you've made further modifications. Remove the custom ad blocker rule(s) and the page will load as expected.