Desription
Edit
Specification is stable with a decrease in reactive speaker Has been improved. Wolf, given the abnormal body to stregthen Deterrence to give a bit low but relatively Starter contral inexperience low recoil firearms suitable for men.
This weapon is usable as a basic weapon, which means it can be equipped in the first weapon loadout.
Use the same tactics as you would with the ELWRCi M6A2.
It is quite accurate, but tends to jump up a little.
Good for close and mid-range combat.
Does great headshot damage.
---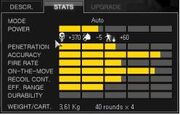 Ad blocker interference detected!
Wikia is a free-to-use site that makes money from advertising. We have a modified experience for viewers using ad blockers

Wikia is not accessible if you've made further modifications. Remove the custom ad blocker rule(s) and the page will load as expected.