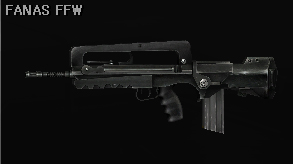 Description
This is a bull-pup type rifle of the French army. It's shooting speed is relatively fast but the muzzle will rise quickly. It is good for mobility usage due to it's long barrel. Although many versions are out there, veterans of Pride prefer the early version for familiarity. It has never been officially used but achieved good results in battles against Wolves one on one. The PT type has more benefits for short distance combat with an upgraded cyclic rate at the cost of lowered accuracy.
Tips
This is a good all around weapon; it's quite accurate, and can take on Wolves fairly easily.
The scope upgrade isn't a necessity, but helps greatly if you prefer long range engagements.
The three burst function is very handy, especially for accurate, on the move firing. The three burst allows it to perform on par with the XEM-8 WT/PT.
Variants
---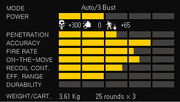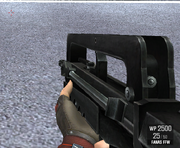 Ad blocker interference detected!
Wikia is a free-to-use site that makes money from advertising. We have a modified experience for viewers using ad blockers

Wikia is not accessible if you've made further modifications. Remove the custom ad blocker rule(s) and the page will load as expected.