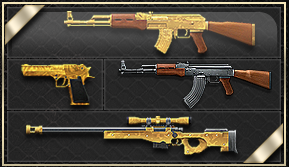 Description
Edit
This is the best of the best line up for special soldiers! All weapons in this set are gold plated, and an extra AKEI-47 Classic will be given. Gold plated weapons have higher power than regular weapons.
Weapons in the Gold Box have higher power than their regular counterparts, use this power to your advantage.
AKEI-47 GL
I-115 GL
DE GL
---
Ad blocker interference detected!
Wikia is a free-to-use site that makes money from advertising. We have a modified experience for viewers using ad blockers

Wikia is not accessible if you've made further modifications. Remove the custom ad blocker rule(s) and the page will load as expected.