Mass Grenade
Edit
Description
Edit
Invented by Ivan Petronovici, scientist of Russia. He developed this throwing sub-type weapon with properties of Mass planodume, that have reaction for regular quantity. It is generally used in various ways such as sport competition and also both military or police. Mass grenade proved and applicated to defense definitely for high jumping and strike power of wolves.
The Mass Grenade pushes any enemies or allies away.
Use the ability to push away players in hiding
Helps to tell when anyone is around a corner, use this to check corners
---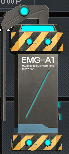 Ad blocker interference detected!
Wikia is a free-to-use site that makes money from advertising. We have a modified experience for viewers using ad blockers

Wikia is not accessible if you've made further modifications. Remove the custom ad blocker rule(s) and the page will load as expected.