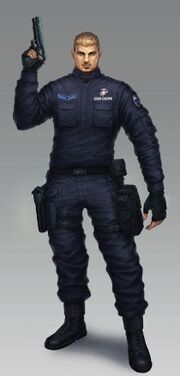 Reinhard, who has yearned for a soldier since a child, flew to France 5 years ago and passed the military test of Legion Etrangere. In the middle of his military service got almost finished. After temporarily returing to France, he considered if he extends the period or is discharged from the army by obtaining the citizenship of France. At that time, the terrorist act of Lycan Pedro leads occured in Marseilles and he joined the military and police joint tactics, He was attracted to Marien who belongs to GTGN and entered GTGN after being discharged from Legion Entragere.
Reinhard has dark blue clothes, and is for blue team only. He increases your stats and has several pieces of armor exclusive to him.
Ad blocker interference detected!
Wikia is a free-to-use site that makes money from advertising. We have a modified experience for viewers using ad blockers

Wikia is not accessible if you've made further modifications. Remove the custom ad blocker rule(s) and the page will load as expected.