Description
The Robinson A XCR is a multi-caliber rifle that supports 5.56mm, 7.26mm, 6.5 Grendel and 6.8 SPC rounds. The barrel can easily be swapped out to support changing sizes, and integrated accessory rails allow for various upgrades such as high-end optics. The weapon has similar internal workings to the AK-47, and can be equipped in the basic weapon slot for more firepower and a faster refire rate.

This gun is only available for AP.
Tips
This is a fairly stable firing gun, if a bit jumpy at times.
It performs very similarly to the ELWRCi M6A2
It can hold it's own against Wolves.
---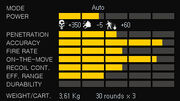 Ad blocker interference detected!
Wikia is a free-to-use site that makes money from advertising. We have a modified experience for viewers using ad blockers

Wikia is not accessible if you've made further modifications. Remove the custom ad blocker rule(s) and the page will load as expected.