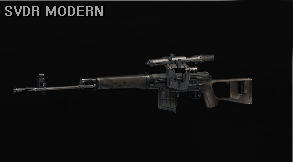 This sniper rifle is significantly weaker than other ones, but unlike other sniper rifles this one is semi automatic so you can hit your targets more quickly.
The reload of this gun can sometimes delay before the actual reloading; i mean that if you press 'r' , it sometimes waits for a while before reloading.
The ammo runs out quickly on this gun due to the lack of power and the semi automatic feture, so always have a good pistol in hand.
---
Ad blocker interference detected!
Wikia is a free-to-use site that makes money from advertising. We have a modified experience for viewers using ad blockers

Wikia is not accessible if you've made further modifications. Remove the custom ad blocker rule(s) and the page will load as expected.