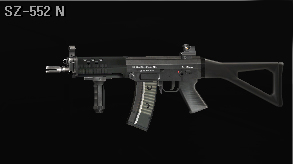 Description
The SZ-552 is welcomed by many special forces stationed around the world due to it's high accuracy and performance. Based on it's durability, the N type is modifed to be suitable for CQC combat and was adopted by the US Navy. It maintains high accuracy in any given situation.
Tips
As the description mentions, this is a highly accurate gun.
The damage on this weapon isn't especially impressive, but the accuracy well makes up for that.
Upgrading this gun fully is not advisable. Several of the upgrades contradict one another.
Crouch and fire for maximum effectiveness.
Variants
SZ-552 PT (found in Full Power 14 Package)
SZ-552 AW (found in Camouflage Set)
Ad blocker interference detected!
Wikia is a free-to-use site that makes money from advertising. We have a modified experience for viewers using ad blockers

Wikia is not accessible if you've made further modifications. Remove the custom ad blocker rule(s) and the page will load as expected.