Stick Grenade
Edit
Description
Edit
During the World War II, Nazi SS troops started to excavate prototype of ancient wolf, and discovered vestiges of checking wolves of the French Resistance in historic site called Two Temples. Since SS troops had to face prototype of ancient wolf and the French Resistance, they must carry a grenade with strong fire power. It is still in good condition to use.
It's basically the same thing as a MK-5 EG
Different explosion sound
---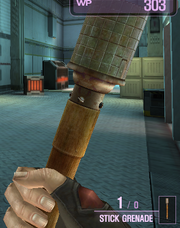 Ad blocker interference detected!
Wikia is a free-to-use site that makes money from advertising. We have a modified experience for viewers using ad blockers

Wikia is not accessible if you've made further modifications. Remove the custom ad blocker rule(s) and the page will load as expected.