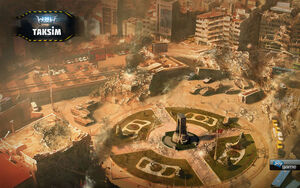 Taksim is a small map playable in deathmatch modes, representing a wartorn city park, with several tanks and vehicles crashed into the map.
The Environment
Edit
There are two trenches ideal for sniping and ambush. Also included are two one-sided shelters with an open overhead, fires which do nothing, trees which dont help much, and several miscellaneous objects for defense against gunfire (e.g crates, tanks). A large indestructible structure stands in the middle of the map. Buses parked are ideal for ambush, with the shadows almost completely covering you.
Ad blocker interference detected!
Wikia is a free-to-use site that makes money from advertising. We have a modified experience for viewers using ad blockers

Wikia is not accessible if you've made further modifications. Remove the custom ad blocker rule(s) and the page will load as expected.