XEM-8 OPS MC


Details
Type
Gun
Base Model
XEM-8
Variant
OPS
2nd Variant
MC
Basic
No
Description
Edit
This is a miniature type assault rifle variation of the XEM-8 and has great strength in close quarters combat. Even though the OPS is not adopted on the front lines, it is used by subsidiary troops in special operations. Pride members prefer the OPS. This version features a multicam pattern and has been modified in various parts.
Use similar tactics to the XEM-8 WT/PT.
This weapon doesn't feature a burst mode like it's regular counterparts, so adopt your strategy to suit close range combat.
This weapon is very well balanced in nearly every aspect and can be adopted to suit nearly any combat situation.
This gun will absolutely slaughter Wolves if you crouch or walk while using it. Always aim for the head and you can't go wrong.
XEM-8 C (found in Full Power 14 Package and Special 7 Package)
---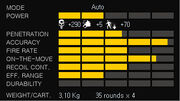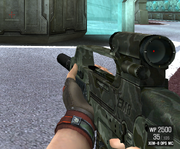 Ad blocker interference detected!
Wikia is a free-to-use site that makes money from advertising. We have a modified experience for viewers using ad blockers

Wikia is not accessible if you've made further modifications. Remove the custom ad blocker rule(s) and the page will load as expected.