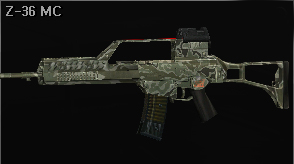 Description
Edit
The Z-36 is the selected official German rifle after the Z-3, and is also used in South America as a main weapon. With well-built structure, it maintains stable performance. With it's polymer body and optical scope, it became a typical 21st century weapon. This version features a camoflage exterior coating as well as various improvements.
This is a vastly improved version over the original. It has higher damage, accuracy, and better recoil control.
This is probably the fastest firing assault rifle in the game, and the distance accuracy suffers because of this.
Despite the fact this model has a scope shown on it, it's not capable of scoped fire (removed in a patch).
Use this weapon in mid-close range combat, it has a very fast fire rate and will quickly kill anything close to it.
This weapon can scare Wolves fairly easily if kept under sustained fire, especially at close range.
Remember to aim for the head.

Variants
---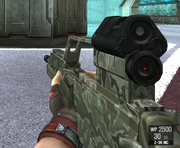 Ad blocker interference detected!
Wikia is a free-to-use site that makes money from advertising. We have a modified experience for viewers using ad blockers

Wikia is not accessible if you've made further modifications. Remove the custom ad blocker rule(s) and the page will load as expected.